Angel solar light garden statue
Brand : Feng Tai
Product origin : China
Delivery time : 50-60 days
Supply capacity : 3000000 Pieces per year
Product details:
Angel solar light garden statue mainly depends on the solar panels. At the time of the day, Angel solar light garden statue panels convert sunlight into electrical energy stored in rechargeable battery within the lamp. at night when it's dark, solar panels can produce photosensitive sensors, to cause the lamp to illuminate. Angel solar light garden statue to solar energy as an energy source during the day using solar panels to charge batteries, which battery powered garden lights used in the evening. No complex and expensive pipeline, adjustable lighting layout, safety and energy saving and pollution-free, uses the process of charging and on/off control, light control switch automatically, without manual operation, stable reliable and maintenance-free. Angel solar light garden statue is mainly used on Villas,,parks, green belts and other home places of the lighting.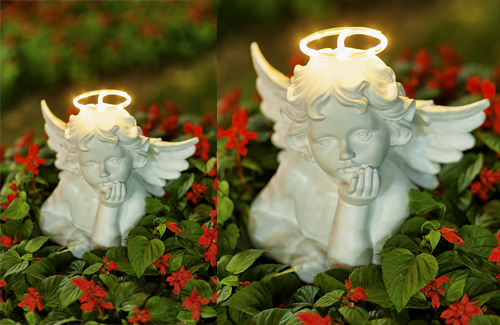 Advantages:
1. All In One Integrated Design(Put Solar Panel, LED Lamp, Battery and Controller in One Box).
2. Without Any Cable, Easy to Install and Ship.
3. Save Energy and Eco-friendly.
4. Angel solar light garden statue has longer Service Life.
5. Easy to Maintain and Replace Traditional Lights.
6. Support Long Working Time Up To 3-4 rainy days Once the Battery Full Charged.
Please feel free to give your inquiry in the form below.