Christmas light bulb
Brand : Feng Tai
Product origin : China
Delivery time : 50-60 days
Supply capacity : 3000000 Pieces per year
Basic parameters
Product: Christmas light bulb
Brand: Quanzhou Feng Tai
Storage system: Solar panels *1
Solar panels voltage: 2V
Solar panels operating current: 30MAh
Battery: AAA Battery*1
Battery voltage: 1.2V
Battery capacity : 300MAh
Style: warm white LED *9
Specifications: 18*38
Product description
Christmas light bulb to solar energy as an energy source during the day using solar panels to charge batteries, which battery powered garden lights used in the evening. Waterproof solar chandelier has four main characteristics:
1,Solar Panel: photoelectric conversion efficiency of around 15%, up to a maximum of 25%, is the most efficient of all solar cells.
2,Lamp housing: durable, metal material, not easily scratches and wear.
3,Lights material: glass exterior, more natural light, waterproof, more durable.
4,Water resistance: light and switches are made of waterproof material, even a rainy day can keep the brightness of the light and durable.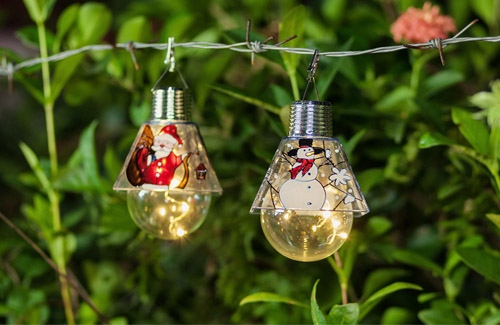 Product advantages
1)Christmas light bulb have core unit of intelligent controllers, set control, control switch when the smart regulation.
2)Christmas light bulb no ultraviolet and infrared light, does not produce radiation.
3)Eco-friendly, does not contain harmful elements, conducive to recovery and utilization and does not produce electromagnetic interference.
4)Decorative Solar Garden lights with long service life, low installation cost, maintenance convenience.
5)High safety factor, the product do not use AC electricity, using the safety and high efficiency for solar energy.
6)Christmas light bulb use of natural solar with no waste of resources.
Please feel free to give your inquiry in the form below.