Hanging solar light bulb
Brand : Feng Tai
Product origin : China
Delivery time : 50-60 days
Supply capacity : 3000000 Pieces per year
Improvised solar light bulb main application and community green belts, industrial parks, landscape lighting, scenic, parks, gardens, squares green ect.
Specification:
Brand Name: Feng Tai
Place of Origin: China
Size: 5.5*5*30
Led color: Warm white
Beam angle: 360 degrees
Battery: 1pc 1/3 AAA 80MAH
Working Temperature(℃): 25 - 50
Input Voltage(V): 12V
Lamp Luminous efficiency (lm/w):100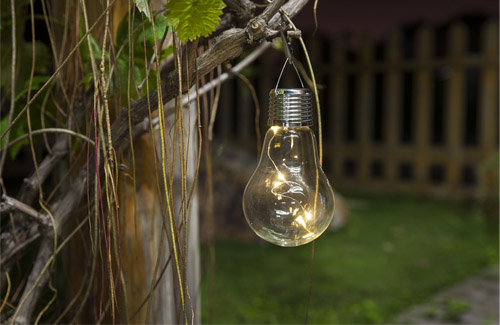 Description:
Hanging solar light bulb by solar panels (photovoltaic panels), super bright LED lights (light source), maintenance-free rechargeable battery, control circuit, lamps and so on. Using solar energy to work when the Sun on the solar panels during the day, light energy into electrical energy storage in batteries, and consists of the battery during the night for lawn lamp LED (light emitting diodes) to provide power. Its main advantage is safe, energy-saving, convenient and environmentally friendly. Applicable to the residential community of grass landscaping lighting decorations, parks beautify the lawn ornament. Hanging solar light bulb is an independent power generation system. It is able to independently produce converts solar energy into electric energy and to convert electrical energy into heat energy for lighting and decorative use, without the need for wires of the transmission.
Features:
1. Light sensor and and sensitive Motion sensor, save energy.
2. High efficency LED Lights, high brightness.
3. Auto identify day or night.
4. Solar powered, easy to install and easy to maintain.
6. Metal body, never fade, waterproof and heatproof.
7. Base on side lighting principle so that the light would be gentle and not dazzling.
Please feel free to give your inquiry in the form below.