Outdoor solar garden lights
Brand : Feng Tai
Product origin : China
Delivery time : 50-60 days
Supply capacity : 3000000 Pieces per year
Outdoor solar garden lights to solar energy as an energy source, with high safety factor and good practical effect.
Basic parameters
Product: Outdoor solar garden lights
Brand: Quanzhou Feng Tai
Storage system: Solar panels *3
Solar panels voltage: 2V
Solar panels operating current: 100MAh
Battery: Type 18650 lithium ion battery
Battery voltage: 3.7V
Battery capacity : 1200MAh
Style: Warm white light LED*6
Specifications: D15*H165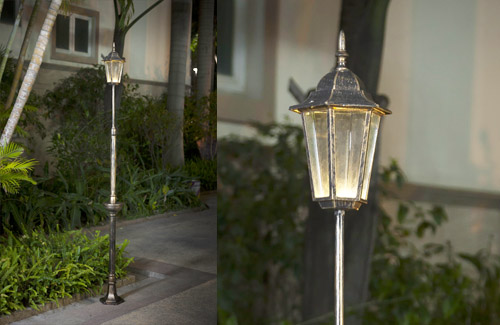 Product description:
Outdoor solar garden lights is a use of solar energy to meet the new lighting without power supply lighting, the design is composed of four parts, namely:
First, the solar panels
The main function of the solar panel is to convert light energy into electrical energy. Generally speaking, it is made of monocrystalline silicon or polycrystalline silicon. The main purpose is to make the solar panel utilize the photovoltaic effect of light to produce a voltage to the battery charge.
Second, the solar energy discharge controller
Outdoor solar garden lights need a discharge control circuit, in order to extend the life of the battery, it must be its charge and discharge conditions to be limited to prevent the battery overcharge and deep discharge.
Third, the solar energy storage battery
The solar energy storage battery are designed to store energy from solar cell during the day.
In order to not only meet the night lighting,but also to be able to meet the rain days power night lighting needs.
Fourth, LED lamps. Lighting and practical, while meeting outdoor solar garden lights the aesthetic and energy saving.
Pay attention to matters:
1, prohibit the installation of solar panels in the shadow of the long-term buildings.
2, Outdoor solar garden lights are not allowed to dismantle the solar panels.
3, to regularly take a soft cloth to quickly wipe the surface of solar panels.
4, Installation, try to select the best lighting angle.
Please feel free to give your inquiry in the form below.