Pink rose solar lights
Brand : Feng Tai
Product origin : China
Delivery time : 50-60 days
Supply capacity : 3000000 Pieces per year
Description:
Pink rose solar lights,is a new type of environmentally friendly lighting, into ornamental, practicality and safety in one, modeling nice, excellent quality, innovative design, style and diverse. Widely used in parks, public squares, residential, factories, schools and other places, with good decoration and lighting effects.Pink rose solar lights not only has high brightness, elegance, and ease of installation, stable and reliable, long life characteristics, without complex and costly pipeline, adjustable lighting layout.
Features:
1. Pink rose solar lights, energy saving, convenient to use, environment-friendly.
2. For outdoor garden home use, beautiful and romantic.
3. Simple and easy to install and use.
4. Soft light, no radiation, no heat.
5. The Pink rose solar lights can keep lighting for more than 6 hours after fully charged during the day.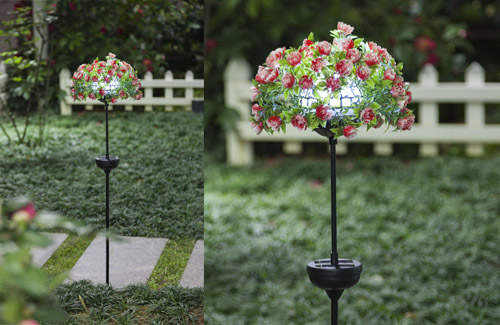 Performance advantages:
1. Energy saving and friendly environmental, the power of led bulb.
2. Low temperature, over than 95% of electric energy can be convert into luminous energy.
3. Stabilization, Even if one lamp isn't working, does not affect the other lights on.
4. Glass flower solar lights used widely in all kinds of decorations.
5. Have got through inspection of raw materials, production, aging test and checking before packing.
6. Design concept: to create a warm harmonious and relaxing romantic living surroundings.
Please feel free to give your inquiry in the form below.