Plastic solar umbrella lights
Brand : Feng Tai
Product origin : China
Delivery time : 50-60 days
Supply capacity : 3000000 Pieces per year
Plastic solar umbrella lights has a simple installation, waterproof sunscreen and so on. Products are widely used in roads, gardens, windows, shops, venue, stage and other places.
Specification:
Brand Name: Feng Tai
Place of Origin: China
Size: 16*15
Lamp color: White
Lamp shape: Umbrella shape
lampshade material: Plastic
Battery: 1pc AAA 300MAH
Light source type: Led lights
The main scope of application: roads,gardens,shops other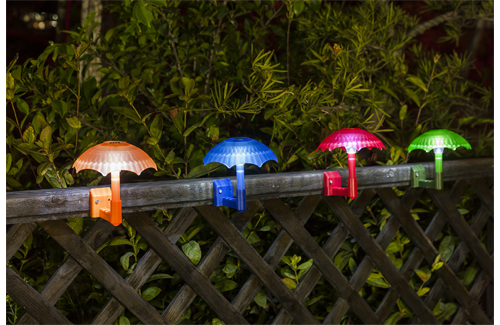 Description:
Plastic solar umbrella lights is the use of solar power,lamps use efficient solar energy battery panels,can solar energy can be converted into electrical energy and stored in the built-in battery,for LED lights with the. Plastic solar umbrella lights have unique light control technology to ensure that the lamp in the daytime (light sufficient) automatic charging,in the evening (light is low) automatically lit.
Performance advantages:
1. Energy-saving: powered by the sun.
2. Use of long time, do not worry about rainy weather.
3. New environmentally friendly component materials: water-proof.
4. Fast and easy to install.
5. High-power high-brightness, no light failure, no flash frequency, no radiation.
6. Suitable for indoor or outdoor decoration,to improve the quality of your life.
We can give you the promise:
1. Really credible product information.
2. Good value for money quality.
3. Product species complete,one home have,not need to many home find,save your precious time, energy, money.
4. Invoice clear neat,convenient storage,archiving and check.
5. Product sales in any question,please actively put forward,we must think you think, solve your worries.
Please feel free to give your inquiry in the form below.