Santa LED candle lantern
Brand : Feng Tai
Product origin : China
Delivery time : 50-60 days
Supply capacity : 3000000 Pieces per year
Descriptions
We are excited to present to you the full size Santa LED candle lantern. Make him yours by placing him in your garden, in your home or in your office. That are made even more vibrant when placed out in the sun. During the day, the Santa LED candle lantern collects energy from the sun's rays. At dusk, a solar-powered LED light illuminates the painted glass design for an enchanting display. Slow and steady will be the last things coming to mind when describing how quickly you absolutely fall in love with our new Santa LED candle lantern!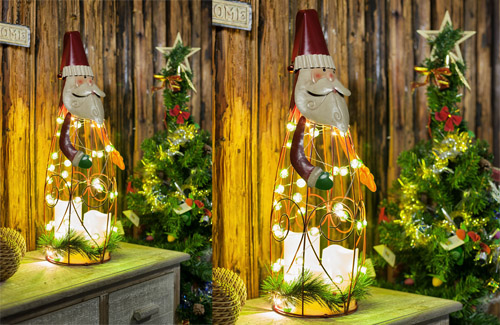 Features
1. Includes a solar-powered LED path light and a rechargeable battery.
2. Santa LED candle lantern are vibrant and sturdy.
3. Up to 8 hours of light on one charge.
4. 1-year base warranty on the parts gives you peace of mind.
5. Photocell control feature automatically turns the lights on at dusk and off at dawn for convenience and energy savings.
6. Easy, no-wire installation.
7. Perfect for garden lighting.
Please feel free to give your inquiry in the form below.