Solar star light bulb
Brand : Feng Tai
Product origin : China
Delivery time : 50-60 days
Supply capacity : 3000000 Pieces per year
Product description
Solar star light bulb to solar energy as an energy source during the day using solar panels to charge batteries, which battery powered garden lights used in the evening. Waterproof solar chandelier has four main characteristics:
1,Solar Panel: photoelectric conversion efficiency of around 15%, up to a maximum of 25%, is the most efficient of all solar cells.
2,Lamp housing: durable, metal material, not easily scratches and wear.
3,Lights material: glass exterior, more natural light, waterproof, more durable.
4,Water resistance: light and switches are made of waterproof material, even a rainy day can keep the brightness of the light and durable.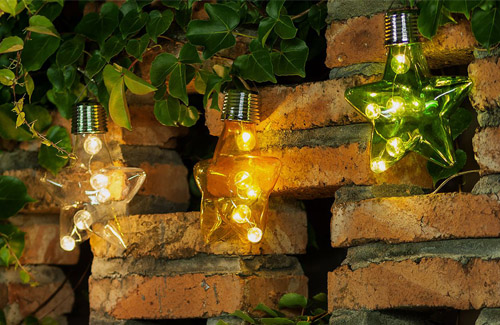 Advantages:
1. Solar star light bulb the shell is white solid glass high temperature pressing one, not easily broken, and high sealing.
2. Solar star light bulb shell with electrostatic paint deposition of Silicon-coated, for underwater lighting effect, its surface pattern can achieve beautiful refraction, light, soft, colorful.
3. Enhanced special coiled coil connection fuses, explosion-proof performance, safety and reliability.
4. Solar star light bulb use with a water proof lamp holder can be directly installed in the outdoor or underwater without any protection.
5. The special process, bright and lasting colour coating, do not fade, do not fall off.
Please feel free to give your inquiry in the form below.