Two bulb crackle solar lamp
Brand : Feng Tai
Product origin : China
Delivery time : 50-60 days
Supply capacity : 3000000 Pieces per year
Introduction:
Two bulb crackle solar lamp depends mainly on solar power generation, through by the solar controller give battery energy storage, without manual control need. Automatically opening and closing, all charging and discharging, opened and closed fully intelligent and automatic control.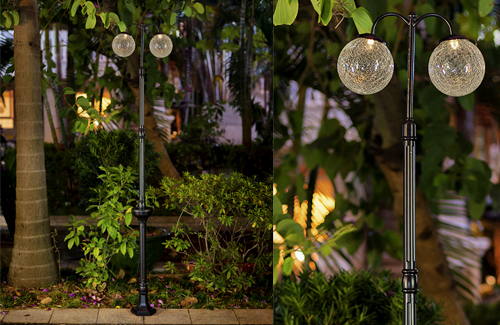 Feature:
Safety: The product do not use AC electricity, using the safety and high efficiency for solar energy.
Environmental protection: Three bulb crackle solar lamp using LED light sources, environmental protection, pollution-free, no radiation, protecting the environment.
Advanced: Two bulb crackle solar lamp 's core unit of intelligent controllers, set control, control switch when the smart regulation.
Durable: Long service life, low installation cost, maintenance convenience.
Patented appearance:Design team crafted, the appearance of high-end, stylish and atmospheric.
Please feel free to give your inquiry in the form below.